1. Login to (or create) your esri online account through the University of Toronto https://www.arcgis.com/home/signin.html
2. More information on logging in can be found here: https://mdl.library.utoronto.ca/technology/tutorials/logging-arcgis-online
3. There are two ways to navigate to the course directory.

(1) Use this link: https://www-esri-com.myaccess.library.utoronto.ca/training/catalog/search/   

(2) Navigate to Esri Academy using the drop down menu linked to your account in the upper right. Select "training" from the drop down then find the "Catalog" at the top of the page to get to the course listings.
4. Once you have arrived at the course page you will find a number of filtering options. Check the "free" and "maintenance" boxes to see the content that is available at no cost to UT community members.
5. Note the other filtering options available: by topic, product and format. The Web Course format provides the most robust learning environment with courses that run 1 – 4 hours and include data to work with as well as learning activities to check your progress.
6. Once you select a course it will be added to your profile. The My Learning Activity section of your account will keep track of your enrollments, as well as your progress.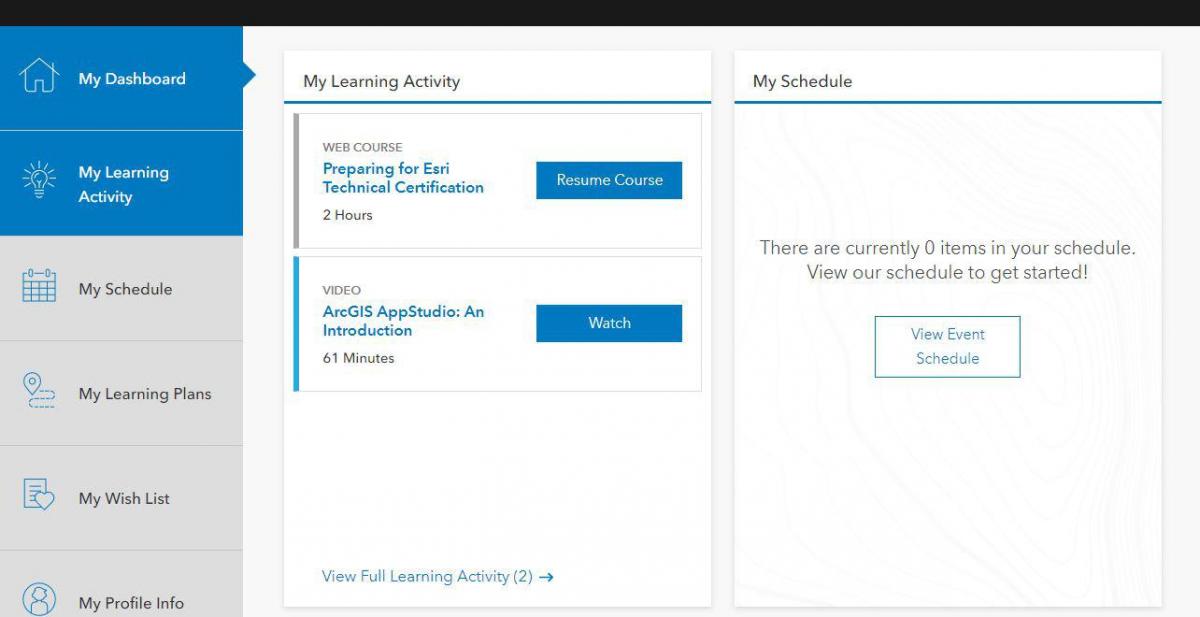 7. If you are a GIS beginner, try the modules linked below.
8. Also note that ESRI has introduced a new learning portal, separate from Esri Academy, called Learn ArcGIS.  
    https://learn-arcgis-learngis.hub.arcgis.com/